IEEE TEM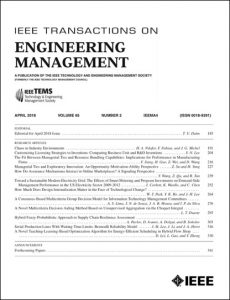 Professor Brem is Department / Associate Editor of IEEE Transactions on Engineering Management (IEEE TEM), responsible for the area of Technology Management.
IEEE Transactions on Engineering Management is a journal of the Technology and Engineering Management Society of IEEE, published quarterly since 1954. It is dedicated to the publication of peer-reviewed original contributions, by researchers and practitioners, regarding the theory and practice of engineering, technology, and innovation management.
In the latest version of the VHB ranking, IEEE TEM is in different relevant areas (Technology, Innovation, Entrepreneurship / Business Informatics) at level B.