Practical seminar in the vineyards of Veitshöchheim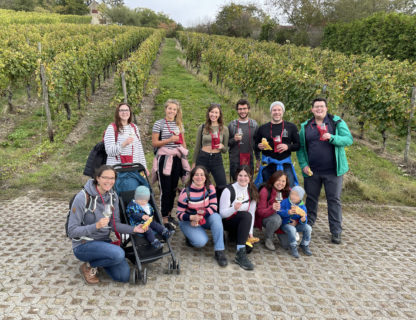 On October 11, the entire team of the Chair had the opportunity to gain important insights into the economic situation of the wine industry and viticulture in Franconia during a vineyard tour in beautiful Veitshöchheim.
Under the expert guidance of a wine expert, we gained valuable information into the work of the winegrower and into the vegetation during a walk through the vineyards in the Zweiuferland.
Interesting facts about viticulture, the favorable climatic conditions of the region, geology and the history surrounding Franconian wine were discussed together. Meanwhile, surrounded by vineyards with the different subsoils of the Franconian Triassic, we enjoyed magnificent views of the Main Valley.
Our day ended with dinner at the Alte Mainmühle in Würzburg.
The perfect combination of practical expertise and enjoyable nature experience