Peter Bican as speaker at the innovation congress of iENA 2018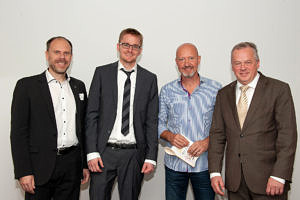 At its 70th anniversary, iENA, the international trade show on "Ideas, Inventions, New Products", took place from November 1st until November 4th in Nuremberg, Germany. It is one of the most important international specialized trade shows for ideas, inventions, and new products in the world and one of its kind in Germany, with around 800 inventions on display.
A special highlight of this year's iENA was the innovation congress, which took place on Friday, 2nd from 10:30am until 3:00pm. Under the motto of "Successful through innovations – how to manage innovations", Peter Bican was invited as speaker to discuss approaches from creative ideas (inspiration) to marketable products, and to familiarize the participants with new trends in innovation management.
Thereby, Peter Bican introduced the audience to his the current research projects in the field of strategic management of intellectual property rights (like patents or trademarks). His key message is that innovative firms need to understand that the strategic management of intellectual property is a core function of management. It is essential to holistically integrate the strategic view into the innovation management process.