Peter Bican wins EFMD Case Writing Competition Award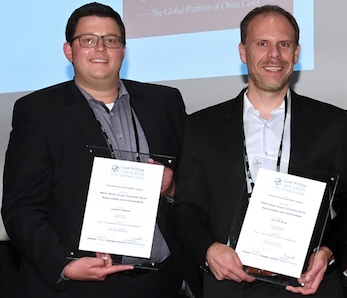 Peter Bican and Carsten Guderian received the 2016 EFMD Case Writing Competition Award in the category "Corporate Social Responsibility" for their case study entitled "Martin Bauer Group: Corporate Social Responsibility with EinDollarBrille". The award was presented at a ceremony which was a part of the 2017 EFMD Annual Conference in Berlin, Germany, from 7 to 9 June 2017. The European Foundation for Management Development (EFMD) is recognized as one of the leading accreditation bodies for management education with established accreditation services for business schools and business school programs globally. Peter Bican is an assistant professor (Akademischer Rat) at the Chair of Technology Management at the Friedrich-Alexander-Universität Erlangen-Nürnberg. Carsten Guderian is a research assistant at the Chair of Technology and Innovation Management at the WHU – Otto Beisheim School of Management in Vallendar.
The EFMD Case Writing Competition Awards are presented in multiple categories annually. The judges evaluated over 350 business case studies from all over the world on various assessment criteria such as relevance, learning objectives, and innovativeness.
The winning case study discusses the corporate social responsibility activities of the Martin Bauer Group, both domestically and abroad in its sourcing markets. The Martin Bauer Group is a traditional Bavarian medium-size (Mittelstand) family business from Vestenbergsgreuth, close to Nuremberg. In dialogue format, the case analyzed whether the business can and should engage in a cooperation with the OneDollarGlasses association to bring the frugal innovation of glasses to the African country of Sudan. The case and an accompanying teaching note were published with Ivey Publishing. The case is available via the Ivey Case Center, Harvard Case Center, and The Case Center.
The authors express their appreciation to the family Wedel, in particular Inge and Adolf Wedel, for their extensive support. Moreover, the authors thank EFMD, the judges, Kedge Business School, Martin Aufmuth.