Publication recognized as "Top Cited 2021-2022" by R&D Management Journal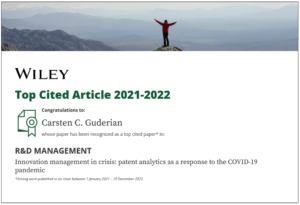 We are excited that Wiley Publishing recognized a publication by Professor Dr. Peter M. Bican and Dr. Carsten C. Guderian with Professor Dr. Frederik J. Riar from the University of Bern and Dr. Sarbani Chattopadhyay from LexisNexis Intellectual Property Solutions as "Top Cited Article 2021-2022". Wiley Publishing already recognized it as "Top Cited Article 2020-2021" and as a "Top Downloaded Article".
The article on "Innovation Management in Crisis: Patent Analytics as a Response to the Covid-19 Pandemic" was published in 2021 in the internationally renowned journal R&D Management. Options are analyzed and discussed on how patent analytics may be used for the data-driven management of crises such as the Covid-19 pandemic.