Neue Betriebswirtschaft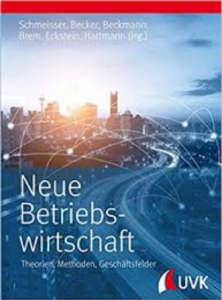 Editors: Schmeisser W, Becker W, Beckmann M, Brem A, Eckstein P, Hartmann MH
Edition: 1
Publisher: UVK Verlag
Place of publishing: Tübingen
Year of publication: 2018
ISBN: 978-3-86764-828-8
Language: German
Business administration reinvents itself again and again. It regularly develops theories and methods and does not get caught up in the methodical fallacy that economics have to search for scientific-mathematical laws in business.
Against this background, the new business administration is an approach to combine classical business administration with current issues.
This book therefore presents classic topics such as accounting, cost accounting, profit and loss accounting, sales accounting, financing, but also explicitly statistics for data acquisition and data evaluation. We always deal with all these topics in the light of current developments in digitisation, internationalisation and innovative business models.
The authors turn to classical functions of the company, but also to topics such as security, compliance, sustainability, online marketing, innovation marketing, strategic controlling, cross mergers and acquisitions, among others in connection with company valuation, as well as risk management.
The book addresses students of economics as well as entrepreneurs and managers who deal with business management topics in theory and practice.
Alexander Brem focuses in his chapter on approaches to qualitative research and the conception of theory-generating research strategies and lays an important groundwork towards a common conceptual and methodological basis.