Internationale Betriebswirtschaft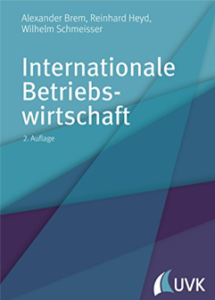 Editors: Brem A, Heyd R, Schmeisser W
Edition: 2nd edition
Publisher: UVK Verlagsgesellschaft mbH
Year of publication: 2017
ISBN: 9783867647540
Language: German
The Europeanization and globalization of the economy determine today's business practice. For this reason, the interdependencies with suppliers, partners and customers are no longer just national. In order to meet the technical and intercultural challenges, intercultural competence as well as specialist knowledge of the various economic and tax systems are required in addition to business management know-how.
This book meets these new requirements. It clearly covers all relevant topics from interculturality, global corporate strategies and international financial management to IT-supported, cross-border work processes. The question of increasing international competitiveness through targeted innovation management is also answered.
Each chapter is introduced by learning objectives and concluded by a summary, literature tips and questions. A glossary rounds off the work.