Symposium on Patent Analytics, Sustainability, and Investment Decisions organized at EURAM 2022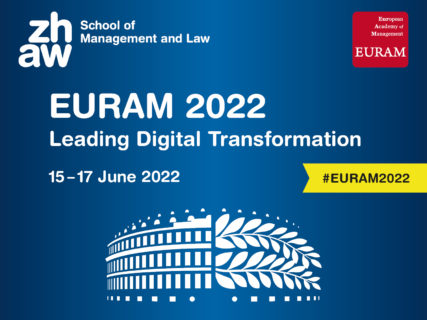 As part of the European Academy of Management Annual Meeting 2022 – the EURAM 2022 – Professor Dr. Peter M. Bican and Dr. Carsten C. Guderian together with Dr. Jan-Alexander Posth from the ZHAW School of Management and Law hosted a symposium on "Patent Indicators, Patent Analytics, and Patent Valuation: From Innovation to SDGs to Investment Decisions" in Winterthur, Switzerland.
The participants benefited from academic and business-oriented presentations from various speakers, including Clea Roth from RWTH Aachen University, Dr. Julia Anna Bingler from the Council on Economic Policies, and Dr. Jochen Spuck from EconSight GmbH. A lively discussion followed on how patent data and indicators may be used in the context of patent analytics for topics relating to sustainability, investment decisions, and innovation measurement and what issues are best to be considered.
Further information on the EURAM 2022 symposia may be found here: https://conferences.euram.academy/2022conference/symposia/#toggle-id-5.