Cooperation between Chair and University Hospital receives Medical Valley Award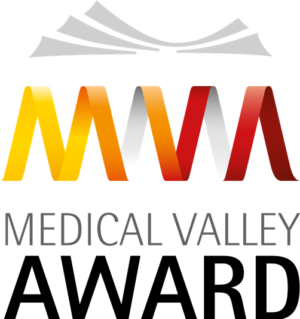 Since spring 2017, the teams around Alexander Brem, Head of the Chair of Technology Management and Christoph Alexiou, Head of the Section for Experimental Oncology and Nanomedicine (SEON), have been working together on a project. The aim of the cooperation is to bring a contrast agent for magnetic resonance imaging (MRI) onto the market that is better tolerated and safer.
Harald Unterweger and Rainer Tietze, experts in nanoparticular systems for biomedical applications, provided the groundwork for this project. During his thesis, Harald Unterweger developed a contrast agent with superparamagnetic iron oxide nanoparticles that, unlike most other contrast agents, is not based on toxic gadolinium and is therefore much more tolerated. "Due to the current controversy about gadolinium in medical use, the spririt of the time was caught. "This must be on the market as fast as possible!", emphasizes Alexander Brem. "After we got to know each other by chance two years ago, our colleagues approached us and presented this exciting project to us. Since then, we have been providing support in all economic and entrepreneurial matters." As a result, a business plan could be provided, also common funding applications were already compiled. The highlight was the pitch presentation as part of the Medical Valley Award. "It was a real challenge to capture all the know-how on this project in just a few minutes. The success ultimately proves us right", Harald Unterweger sums up his experience.
The special thing about this cooperation is that it is truly interdisciplinary work: nanotechnology, food chemistry and business. "This was the only way we were able to advance our project and plan a spin-off", describes Rainer Tietze.
The joint project has now received the Medical Valley Award (Link in German only). The prize is awarded by the Bavarian State Ministry of Economic Affairs, Media, Energy and Technology to academic research projects in the healthcare industry in Bavaria with great spin-off potential. The funding amounts to € 250,000 over a period of two years.
Professor Alexiou sees a lot of potential for the future of this cooperation: "As medical researchers, we need partners who can help us to commercialize our products as quickly as possible. Finding someone like this in-house at FAU is all the more gratifying and gives me hope for many more exciting spin-offs".
We are looking forward to the award, financial support and further fruitful cooperation!