Tugrul Daim from PSU at Chair of Technology Management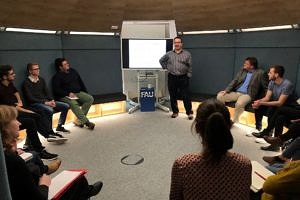 As part of the FAU Visiting Professorship Program, funded by the Müller Foundation, Professor Tugrul Daim of Portland State University (PSU) visited the Chair of Technology Management.
The main focus of the visit was the workshop "Technology Planning Workshop: Methods to learn about the future". Professor Daim, who is the director of the doctoral program for technology management, used several examples to illustrate their methodologies of technology assessment, technology adoption, technology forecast and technology roadmapping. In the afternoon, the audience from industry and science had the opportunity to discuss the topic in more detail in personal conversations.
In addition, Tugrul Daim brought his knowledge and cultural insights about the founding structure and culture in the USA closer to the students of the Entrepreneurship lecture.
The FAU Visiting Professor Program promotes research and teaching stays of international guest scientists and thus advocates foreign cooperation and international partnerships. The Müller Foundation supports the internationalization efforts of the department.
We would like to thank Tugrul Daim for visiting FAU, and the Müller foundation for their financial support.