Patent analysis presentation at the iENA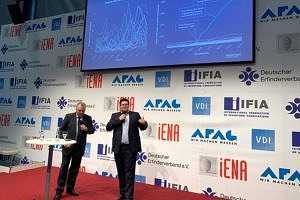 Dipl.-Vw. & Dipl.-Kfm. Carsten Guderian, lecturer at the Chair of Technology Management, was invited to give a lecture at the International Trade Fair for Ideas, Inventions and New Products (iENA).
In addition to his scientific work on patent analysis and patent evaluation at the FAU, Carsten Guderian works as Senior Project Leader at PatentSight GmbH, where he applies his research field practically. He also presented this work in his lecture "Advanced Patent Analytics for Strategic Management".
The iENA is an international meeting place for young and adult inventors, inventor associations, investors and other people interested in innovations and new products. The participants presented over 800 new inventions, made contacts and discussed the topic of "successfully managing innovations" at the iENA Innovation Congress.