Indonesian visiting lecturer at the Chair of Technology Management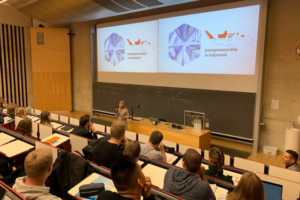 As part of the FAU Visiting Professorship Program, Afina Hasya, lecturer at the Sultan Agung Islamic University in Semarang, Indonesia, visited the Chair of Technology Management in October.
Ms. Hasya's research focus includes entrepreneurship and strategic management in technology companies. Within the scope of this joint research, Afina Hasya and Prof. Dr. Alexander Brem, as well as the scientific staff of the Chair, discussed possibilities of a cooperation during this short visit to be realized in the near future.
Her presentation in the Entrepreneurship Lecture (German only) on start-ups with examples from Indonesia provided an interesting input compared to start-ups of German companies and helped to realize the Chair's goal of internationalizing teaching.
During the "Long Night of Sciences" event in Nuremberg, Fuerth and Erlangen, Afina Hasya also supported the foreign language centre of the WiSo and gave insights into the interesting culture of her home country.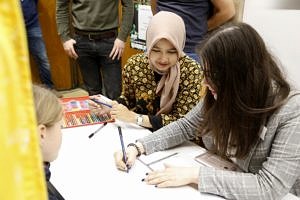 Image source: FAU, WiSo Nuremberg, Gulia Iannicelli
The FAU Visiting Professorship Program (Website in German only) promotes research and teaching stays of international visiting scientists and thus supports foreign cooperation and international partnerships.