Publons Peer Review Award for three years in a row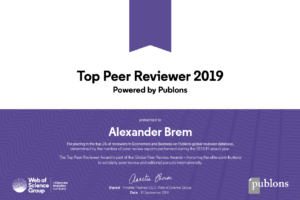 Alexander Brem has received the Publons Peer Review Award for the third year in a row. Each year, Publons publishes a list of the reviewers who receive the most international recognition in various scientific categories.
Publons aims to make peer review a measurable indicator of researchers' expertise and contributions to their field of research. To do this, they work with reviewers, publishers, universities and research institutions.
In 2017, Professor Brem ranked 4th out of 3,900 registered peer reviewers in the category 'Business, Management and Accounting'. In 2018 and 2019 he was among the top 1% reviewers worldwide in even two categories: 'Economics And Business' and 'Environment And Ecology' (2018) respectively 'Cross-Field' (2019).
Further information on the award and the other top reviewers can be found here.