Does open innovation generate collective intelligence? Evidence from Hackathons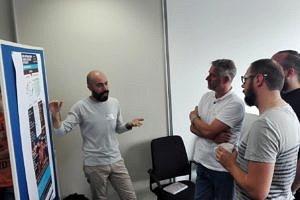 Issam Attalah, a guest PhD student at the Chair of Technology Management conducted research on open innovation and collective intelligence with his mentor Prof. Brem and his supervisor Dr. Petra Nylund. The research was co-presented at the Poster Day which was organized by The Nuremberg Campus of Technology (NCT) in July 2019.
Open innovation is a great way for organizations to bring new ideas (inbound innovation) and share their expertise with the ecosystem (outbound innovation) in a collaborative and open way.
During this process of exchange and co-thinking, the interaction that takes place between the different participating members creates a networked knowledge and intelligence that is theoretically more advanced than the information or skills of each member separately. The outcome is called collective intelligence.
To prove the hypothesis "Open innovation generates collective intelligence", Issam Attalah used hackathons as open innovation tools. Hackathons are contests with limited duration where participants with different background and profiles are asked to work together in order to find ideas or solutions for a specific challenge in any field or industry. The best ideas are rewarded with a prize (in cash or in-kind).
Their empirical embedded case study included several hackathons such as Hackbay which was organized in June 2019 by Zollhof Tech Incubator in Nuremberg. They concluded from the data that hackathons setting (group collaboration) and purpose (find new ideas and solutions) generate indeed collective intelligence.
Since Hackathons are open innovation tools, we extend our findings to confirm the hypothesis that open innovation generates collective intelligence. Nevertheless, we understand that in order to attain a certain level of collective intelligence, one should take into consideration the group dynamic as well as other determinant factors for its success.
For a visual presentation of the research, please check this poster. Have you organized or participated in a hackathon? Share your experience with us using the following link to a survey: Open Innovation & Collective Intelligence -Hackathons.