Call for Book Chapters: Frugal Innovation and its Implementation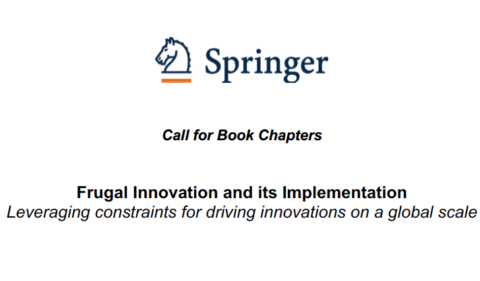 We are pleased to invite you to submit to our book on "Frugal Innovation and its Implementation – Leveraging constraints for driving innovations on a global scale".
We are interested in contributions that examine the following aspects:
Frugal Innovation as a worldwide phenomenon
Reverse Innovation – the global answer to frugality?
Frugal Engineering fostering Frugal Innovation
Digital Revolution as a driver of frugality
Circular Economy and Sustainability
Technological Innovation and Disruption
Frugal Ecosystems in the age of Sharing Economy
The deadline for the submission of the manuscripts is November 1st 2019. Submissions to this edited volume are by invitation only. More details on the book content, as well as the submission process can be found here.
The book will be edited by:
Dr. Nivedita Agarwal, Friedrich-Alexander-Universität Erlangen-Nürnberg, Germany
Prof. Dr. Alexander Brem, Friedrich-Alexander-Universität Erlangen-Nürnberg, Germany