Maria Smirnova from the University of St. Petersburg visits FAU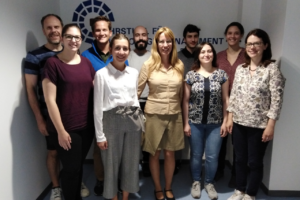 As part of the FAU Visiting Professorship Program, Maria Smirnova of the St. Petersburg State University visited the Chair of Technology Management in July.
The visit focused on the scientific exchange. Through personal discussions with the researchers and external staff of the chair, as well as Nicole Koschate-Fischer and Andreas Fürst (professors from other FAU chairs), common topics were defined and discussed. A return visit of a scientific employee of the chair in St. Petersburg is already planned and is intended to serve the long-term exchange of research and teaching.
Maria Smirnova also gave a lecture on her research areas to give our young academics an insight into her applied methodology and was available for constructive feedback on the topics they presented.
The FAU Visiting Professor Programme promotes research and teaching stays of international guest scientists and thus supports foreign cooperation and international partnerships.