Study Visit at the European Patent Office in Munich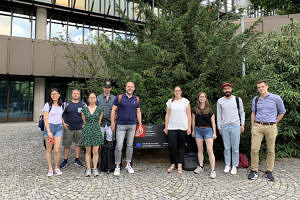 How important are patents in the development of artificial intelligence? On 27th of June, answers for this, among other thrilling questions on intellectual property rights, a group of students from our Chair's "Strategic Intellectual Property Management" master's seminar was able to find out at the European Patent Office in Munich. For the students, this was a great chance to set theoretical knowledge into real practice, besides learning more about the organization itself, attending exciting and interesting talks, and enjoying the canteen.
We would like to acknowledge the support received from our dean at FAU's School of Business and Economics by providing funding based on the "Ausgaben für wissenschaftliche Ausflüge des wissenschaftlichen (und künstlerischen Personals) und der Studenten" program, allowing us to offer this exciting study visit.