TV-report about Oliver Niebuhr's charisma research on ARD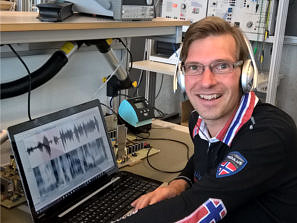 What are the characteristics of a charismatic voice and can you learn it? Professor Oliver Niebuhr, phonetician and guest lecturer at the Chair of Technology Management, has been researching charisma for years and has developed a software that uses several parameters to show how charismatic a voice is and how to train it. His experiments and investigations have now been summarized in an interesting article in the program [w] wie Wissen on ARD.
Here you can watch the program "The Charismatic Voice: The Sound Makes the Music" (in German only).
Professor Niebuhr and Professor Brem have already worked together at the University of Southern Denmark (SDU) and are now continuing their cooperation: Professor Niebuhr held a seminar on language data analysis at the FAU in spring 2018, gave local staff a charisma language training and is also involved as a consultant in the development of the vhb course "Charismatisches Sprechen verstehen und erlernen" (Understanding and Learning Charismatic Speaking). Further courses and joint research projects are planned for the coming semesters.