Frugal Engineering presentation at Kathrein SE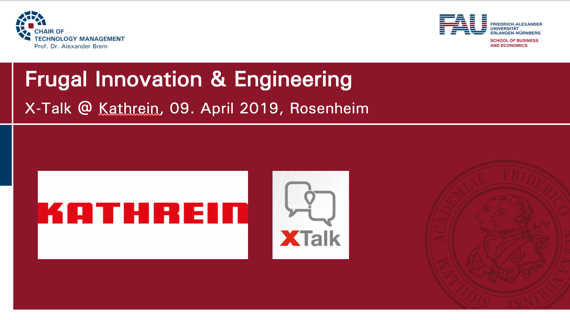 On April 9th, 2019, Christine Wimschneider gave an invited talk on Frugal Innovation and especially frugal product development as part of the XTalk Innovation Platform of Kathrein in Rosenheim.
With more than 660 technicians, engineers and scientists, approximately 1,500 actively used patents, patents pending and utility models, as well as a young product portfolio, Kathrein drives innovation and technology advancements in the communication industry. The XTalk offers a forum for trending cross-industry topics and contributes with guest speakers and discussions among the participants.
Christine Wimschneider presented first findings from research projects of her ongoing PhD. In particular she talked about possibilities of frugal product development in the B2B context without compromising on quality and technological excellence.