Digital technologies for teaching and learning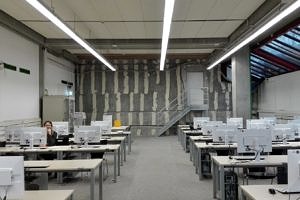 A strategic project of the Chair of Technology Management is to initiate a digital transformation of teaching and learning activities. Therefore, all activities in this area were evaluated to find where digital technologies can help in such a transformation. The aim is to internationalize and increase the interactive learning experience for students. As a result, it was decided to have more virtual classes with e-learning activities, and to introduce electronic exams (e-exams). In addition, further cooperation opportunities with German and international institutions to digitalize its activities are being explored.
For the coming summer semester, two 5 ECTS online courses will be newly offered: "Product Innovation Management in Emerging Markets" and "Profiting from Ideas and Inventions – An Introduction to Intellectual Property Rights", both for students on the Masters level. Students are invited to register for the online courses from 15.03. to 15.04.2019. Furthermore, more classes are under development which will be accessible also to the general public, the so called Massive Open Online Courses (MOOCs).
These online courses are offered in cooperation with the Virtuelle Hochschule Bayern (vhb), which provides financial and technical support to the digitalization of higher education in Bavaria.
In winter term 2018/19, over 200 bachelor students have taken their "Entrepreneurship" exam digitally at FAU's CIP pools. Also, the coming class on "R&D Management" in summer term 2019 will include an e-exam at the end of the semester.