Announcement: Frugal Innovation Forum at Uferstadt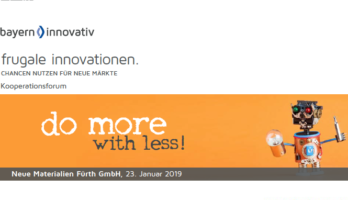 On January 23rd, 2019, Bayern Innovativ hosts a one-day event on Frugal Innovation. Besides the Center for Frugal Innovation in Hamburg and the University of St. Gallen, the Chair of Technology Management is a Partner of the forum. The agenda features several speeches and best practice insights from research and practice as well as workshops, which will take place in the Frugal Innovation Lab of the Chair amongst others.
The event aims at giving an overview on the basics and principles of Frugal Innovation to especially participants from the industry. Case examples and the sharing of methods and approaches will contribute to an understanding of how the Frugal Innovation concept can be applied in one's own institution.
Following this link to the website of Bayern Innovativ you will find more information on the event: https://www.bayern-innovativ.de/veranstaltung/frugal2019#!programm
If you want to participate, please make sure to register until January 16th, 2019 via www.bayern-innovativ-shop.de/frugal2019