Closing event of the project "Technology Management in Practice – Gender Differences in Innovation"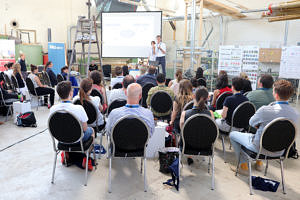 On July 4th, 2018 the final event of the threefold, interdisciplinary project "Technology Management in Practice – Gender Differences in Innovation" took place at the former Quelle heizhaus in Nuremberg.
In this context, the students of the master seminar "International Technology Management Research Seminar" (ITMRS) presented the results of their experiments. These experiments had been conducted at the International Girls'/Boys' Day at the Zollhof, Tech Incubator Nuremberg, with pupils from the FOS/BOS Erlangen.
In the following presentations and discussions, the reasons for less women in the STEM area were analyzed; also, suggestions for a target-oriented promotion of women were made. Especially differences in creativity, intuitivity, technical problem solving and acceptance of technology were identified.
Besides the students' presentations, the audience enjoyed the introductory speech of Corinne Schindlbeck, managing editor of the publishing house Markt&Technik as well as the comments of the jury, led by Silke Tegtmeier, Associate Professor at Mads Clausen Institute of the University of Southern Denmark in Sønderborg. Denmark.
We would like to express our gratitude to all guests and participants and especially to our project partners from the industry: Bock 1, Staedtler and Uvex.
The event was made possible with the funding of the "Mittel zur Förderung der Chancengleichheit von Frauen in Forschung und Lehre (FFL)" from the Free State of Bavaria and the Office for Gender and Diversityof the FAU.