Nivedita Agarwal at the Tunisian Business and Innovation Day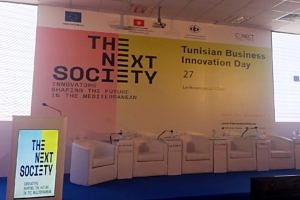 Nivedita Agarwal was invited for the first edition of the Tunisian Business and Innovation Day to participate in a panel discussion on Technology Transfers: Opportunities, challenges and the roadmap to enhanced regional cooperation. The event was held on 27th of June 2018 in Tunis, Tunisia. The discussion was around the best practices and strategies that could be employed to develop a robust technology transfer system in Tunisia. 
Nivedita presented her research insights on the process of technology transfers, different mechanisms adopted and the importance of strong institutional and Intellectual property rights (IPR) settings for enhanced regional cooperation.
As part of an EU funded project, this event was jointly organized by the Agency for the Promotion of  Industry and Innovation (APII), the Confederation of Tunisian Citizen Enterprises (CONECT) and the Republic of Tunisian Ministry of Industry and SMEs.