Guest professor Oliver Niebuhr at FAU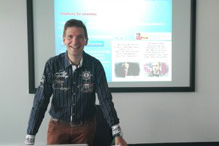 Within the Wilhelm-Rieger Visiting Professorship Program, Prof. Dr. Oliver Niebuhr from the University of Southern Denmark (SDU) was welcomed to the Chair of Technology Management in January 2018. The funding enables renowned university lecturers to stay and teach at the School of Business and Economics of FAU for a maximum of one semester. This way, interdisciplinary and innovative teaching is promoted and international partnerships are strengthened.
As a professional phonetician and professor for communication and innovation, Prof. Niebuhr does research on charismatic speech and leadership. Against this background, Prof. Niebuhr hosted a seminar for students and instructed them in analyzing audio data and conducting their research papers. Moreover, Prof. Niebuhr offered language trainings to NCT employees and students, in which basic insights and advice on how to improve charismatic speech were presented.
For more information please visit our website pages "visiting lecturers" and "SDU".